Sheet metal work requires high precision to ensure accurate and reliable results. Whether working on a small DIY project or handling a large-scale industrial fabrication, precise measurements are crucial for achieving the desired outcome. This article will explore valuable tips and techniques for achieving precision measurement in sheet metalwork. By following these instructions, you will elevate the quality of your work & set yourself apart from others in your field.
Understanding the Importance of Precision Measurement in Sheet Metal work
Before we dive into the techniques, let's first discuss why precision measurement is of utmost importance in sheet metal work. Accuracy in measurements directly affects the overall quality of the final product. Even the slightest deviation can lead to ill-fitting components, compromised structural integrity, or functionality issues. In an industry where precision is paramount, mastering the art of accurate measurement becomes a critical factor in ensuring customer satisfaction and project success.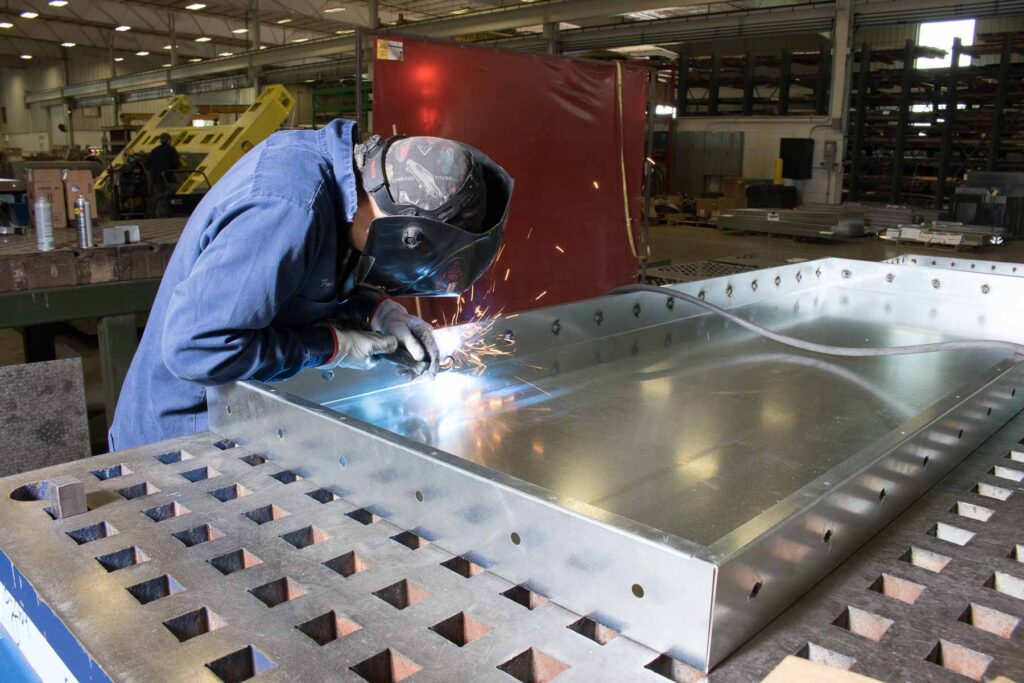 Selecting the Right Measuring Tools
The first step towards precision measurement is using the right tools. Calipers are a must-have for sheet metal work as they provide accurate internal and external dimensions readings. Digital calipers are recommended for their ease of use and precision. Micrometers are ideal for measuring thicknesses and are available in various types, such as outside, inside, and depth micrometers. Other essential tools include straight edges, tape measures, and angle finders.
Proper Handling and Care of Measuring Tools
Handling and caring for your measuring tools appropriately is essential to maintain accuracy. Keep them clean and free from debris that could affect their performance. Regularly calibrate your tools to ensure they are accurate and reliable. If a tool shows signs of wear or damage, it should be repaired or replaced promptly to avoid compromising measurement precision.
Creating a Stable Work Surface
A stable work surface is vital for obtaining accurate measurements. Ensure that your workbench or table is level and sturdy. Any wobbling or instability can introduce errors in your measurements. Additionally, consider using clamps or magnets to firmly secure the sheet metal, preventing unwanted movement during measurement and marking.
Taking Multiple Measurements
To increase accuracy, take multiple measurements of the same feature. This will help identify any inconsistencies and ensure the measurements are precise. Repeat again & again the measurement process at least three times, and if there are any variations, take an average of the readings. By doing so, you can nullify the impact of any potential errors to the minimum and improve the overall precision of your work.
Using Reference Points and Markings
When measuring sheet metal work, it's beneficial to establish reference points and markings. These reference points act as a guide to ensure consistent measurements throughout the fabrication process. Use a scribe or center punch to mark critical locations accurately. By having clear reference points, you can easily align your measuring tools and minimize the chances of measurement errors.
Paying Attention to Environmental Factors
Environmental factors can influence the accuracy of your measurements. Factors such as humidity, temperature, & air pressure can cause expansion or contraction of the sheet metal, affecting its dimensions. To mitigate these effects, work in a controlled environment whenever possible. If that's not feasible, be aware of the prevailing conditions and adjust accordingly.

Applying the Right Techniques
To obtain precise measurements, it's crucial to apply the appropriate techniques. When using calipers or micrometers, ensure the measuring faces are parallel to the measured feature. Avoid excessive force that could deform the sheet metal or the measuring instrument. Take your time and be meticulous during the measurement process, as rushing can lead to errors.
Verifying Measurements
Verifying your measurements is an essential step to ensure accuracy. Cross-check the dimensions with the project specifications or drawings to confirm their alignment. Double-check your measuring tools and techniques to identify any potential issues if discrepancies are found. Rectify any errors promptly to prevent further complications down the line.
Continuous Learning and Improvement
Precision measurement is a skill that develops over time with experience and continuous learning. Stay updated with the latest advancements in measurement techniques and tools. Attend workshops, training sessions, or join professional communities where you can exchange knowledge and learn from industry experts. Embrace a mindset of continuous improvement to refine your skills and elevate your sheet metal work.
Conclusion
Mastering precision measurement in sheet metal work is essential for achieving outstanding results and gaining a competitive edge. By selecting the right tools, handling them with care, establishing reference points, and applying proper techniques, you can enhance the accuracy and precision of your measurements. Remember to verify your measurements and maintain a continuous learning mindset to improve your skills consistently. By following these techniques, you can position yourself as a leader in the industry and deliver exceptional sheet metal work.
"Revolutionizing Sheet Metal work: SJC Precision's Unrivaled Precision, Quality, and Efficiency"
SJC Precision is a trusted provider of sheet metal work solutions, offering significant benefits to businesses. Our expertise and cutting-edge technology assist businesses in streamlining their operations and achieving superior results.
Firstly, SJC Precision excels in precision engineering, ensuring accurate and high-quality sheet metal components. This precision improves product performance and reduces waste, saving business costs.
Secondly, our state-of-the-art equipment and advanced manufacturing processes enable efficient production, allowing businesses to meet tight deadlines and enhance productivity.
Thirdly, SJC Precision offers customization options, tailoring sheet metal work solutions to meet specific business requirements. This flexibility enables businesses to optimize their designs and achieve unique product offerings, gaining a competitive edge in the market.
You can reach out or get in touch with us by shooting an email to info@sjcprecision.com or by visiting our website, www.sjcprecision.com.