In this article, we will explore the emerging trends in custom sheet metal fabrication and how technology and innovation are shaping the future of this field.
The Rise of Automation and Robotics
One of the most impactful trends in custom sheet metal fabrication is the increasing use of automation and robotics. These technologies have revolutionized the industry by streamlining processes, improving efficiency, and reducing human error. With the help of CNC (computer numerical control) machines, intricate metal parts can now be produced with precision and speed. This level of automation enhances productivity and ensures consistent quality in the final products.
Advanced Materials and Alloys | Custom Sheet Metal fabrication
Innovation in custom sheet metal fabrication also extends to the materials used. Traditional metals like steel and aluminum are still widely used, but there is a growing demand for advanced materials and alloys. These materials offer enhanced strength, durability, and resistance to various environmental factors. For example, titanium alloys are increasingly utilized in aerospace and medical industries, where lightweight yet robust components are crucial. By incorporating these advanced materials into their fabrication processes, companies can provide superior products that meet the evolving needs of their customers.
Additive Manufacturing: 3D Printing Metals
Another exciting trend that has gained momentum in recent years is additive manufacturing, mainly 3D printing, for metal fabrication. This technology creates complex metal parts with intricate designs that were previously challenging or impossible to produce using traditional methods. 3D printing offers unparalleled design freedom and eliminates many limitations of conventional manufacturing techniques. As technology advances and becomes more accessible, we can expect to see widespread adoption of 3D printing in custom sheet metal fabrication.
Internet of Things (IoT) Integration
The IoT (Internet of Things) has revolutionized various industries, and custom sheet metal fabrication is no exception. IoT integration enables seamless communication and data exchange between machines, increasing automation, real-time monitoring, and predictive maintenance. By connecting different components of the fabrication process, businesses can optimize production, reduce downtime, and enhance overall operational efficiency. IoT-powered solutions offer improved control and visibility, empowering manufacturers to deliver high-quality products promptly.
Sustainable Practices and Green Initiatives
With the growing emphasis on sustainability, the custom sheet metal fabrication industry has been exploring eco-friendly practices and green initiatives. Manufacturers are adopting energy-efficient technologies, optimizing material usage, and implementing recycling programs to reduce their environmental footprint. By embracing sustainable practices, companies contribute to a greener future and appeal to environmentally conscious clients who prioritize eco-friendly solutions. This shift towards sustainability reshapes the industry and drives innovation in materials, processes, and waste management.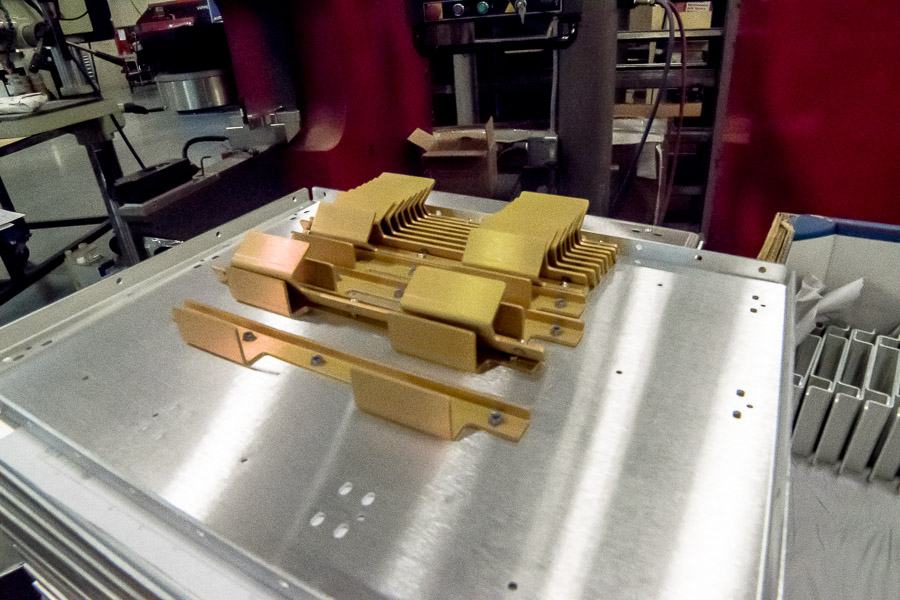 Augmented Reality (AR) for Design and Visualization
Augmented reality (AR) transforms how custom sheet metal fabrication projects are planned and executed. By overlaying digital models onto the physical environment, AR enables designers, engineers, and clients to visualize the final product before it is fabricated. This technology enhances collaboration, facilitates design iterations, and minimizes errors during the prototyping phase. With AR, stakeholders can make informed decisions, ensure design accuracy, and deliver exceptional client outcomes.
Laser Cutting and Precision Machining
Laser cutting is a crucial technique in custom sheet metal fabrication due to its precision and versatility. This technology utilizes high-powered lasers to cut through various materials with exceptional accuracy, resulting in clean edges and intricate designs. On the other hand, precision machining involves using advanced CNC machines to create complex shapes and patterns. These techniques have significantly expanded the possibilities in metal fabrication, allowing for producing intricate components and reducing material waste.
Artificial Intelligence (AI) in Quality Control
Artificial intelligence (AI) is making its mark in quality control within custom sheet metal fabrication. AI-powered systems & software can analyze vast amounts of data and identify potential defects or inconsistencies in production. This technology enables manufacturers to ensure the highest quality standards and detect anomalies early on, reducing faulty products reaching the market. By leveraging AI, companies can enhance their quality control procedures, optimize manufacturing processes, and deliver superior products to their customers.
Nanotechnology and Surface Finishing
Nanotechnology is finding its way into custom sheet metal fabrication, particularly surface finishing. By utilizing nanoparticles, manufacturers can enhance the properties of metal surfaces, such as improving corrosion resistance, adding antimicrobial properties, or increasing hardness. These advanced surface treatments provide added value to the final products and expand their applications in various industries. Nanotechnology offers endless possibilities for custom sheet metal fabrication, enabling the development of high-performance components with tailored surface characteristics.
Collaborative Robotics (Cobots)
Collaborative robots, also known as cobots, are designed to work alongside humans cooperatively. These robots can assist workers in lifting heavy objects, holding metal pieces in place during fabrication, or performing repetitive actions with precision. Cobots enhance productivity and safety in the workplace, as they can handle physically demanding tasks while reducing the risk of human errors or injuries. Their flexibility and ease of programming make them an invaluable asset in custom sheet metal fabrication shops.
Virtual Reality (VR) for Training and Simulation
Virtual reality (VR) is finding applications in custom sheet metal fabrication, particularly in training and simulation scenarios. VR technology immerses users in a virtual environment where they can practice various fabrication techniques, simulate complex assembly processes, or troubleshoot potential issues. This training methodology improves learning outcomes, reduces material waste during training, and enhances workers' skills in a safe and controlled environment. By incorporating VR into training programs, businesses can foster a highly skilled workforce and ensure efficient operations.
Industry 4.0 and Digital Transformation
The concept of Industry 4.0 is revolutionizing the custom sheet metal fabrication sector by promoting the integration of digital technologies across the entire value chain. From automated data collection and analysis to cloud-based manufacturing systems and real-time monitoring, digital transformation is reshaping the industry. Companies embracing Industry 4.0 principles can achieve increased productivity, improved decision-making, and enhanced agility in adapting to market demands. The seamless flow of information and the connectivity of various processes enable manufacturers to optimize their operations and offer customized solutions to their clients.
Final Worlds
The landscape of custom sheet metal fabrication is evolving rapidly, driven by technological advancements and a focus on innovation. The rise of automation, the utilization of advanced materials, and the adoption of additive manufacturing are revolutionizing the industry. Contact SJC Precision today to discuss your custom sheet metal fabrication needs and explore innovative solutions.