This article delves into the world of precision metal fabrication for medical equipment and devices, highlighting its importance, key considerations, and the benefits it offers.
The Importance of Precision Metal Fabrication in Healthcare
Ensuring Quality and Reliability
Medical equipment and devices must adhere to strict quality standards to ensure patient safety and reliable performance. Precision metal fabrication enables the production of components with tight tolerances, ensuring the accuracy and consistency required for seamless integration into medical devices. By employing advanced techniques and state-of-the-art equipment, precision metal fabricators can deliver parts that meet the demanding specifications of the healthcare industry.
Enhancing Performance and Functionality
Precision metal fabrication techniques, such as CNC machining and laser cutting, allow for creation of intricate and complex designs. These techniques enable the production of customized components that optimize the performance and functionality of medical devices. From surgical instruments to diagnostic equipment, precision metal fabrication plays a vital role in enhancing the capabilities of medical technology, ultimately benefiting patients and healthcare professionals alike.
Promoting Durability and Longevity
Medical equipment and devices are subjected to rigorous usage and must withstand repeated sterilization. Precision metal fabrication utilizes materials with excellent strength and corrosion resistance, such as stainless steel and titanium, to ensure the durability and longevity of the fabricated components. The high-quality materials and meticulous fabrication processes contribute to the extended lifespan of medical devices, reducing maintenance costs and enhancing overall reliability.
Critical Considerations in Precision Metal Fabrication for Medical Equipment and Devices
Material Selection
Selecting the appropriate materials for medical applications is crucial. Precision metal fabricators must consider factors such as biocompatibility, sterilization requirements, and the mechanical properties of the chosen materials. Due to its corrosion resistance and strength, stainless steel is a commonly used in medical device fabrication. Additionally, titanium is favored for its lightweight nature and biocompatibility, making it ideal for implants and surgical instruments.
Compliance with Regulatory Standards
The medical industry is strictly regulated to ensure patient safety and product efficacy. Precision metal fabricators must adhere to various regulatory standards, such as ISO 13485, FDA guidelines, and specific country-specific regulations. Compliance with these standards demonstrates a commitment to quality and helps expedite the approval process for medical devices, allowing them to reach the market promptly.
Prototyping and Testing
Before proceeding with large-scale production, precision metal fabricators collaborate with medical device manufacturers to create prototypes for testing and validation. This iterative process enables design modifications and ensures the final product meets the desired specifications. Rapid prototyping and thorough testing can identify and resolve potential issues early in the fabrication process, saving costs and time in the long run.
The Benefits of Precision Metal Fabrication for Medical Equipment and Devices
Accuracy and Consistency
Precision metal fabrication techniques enable the production of components with unparalleled accuracy and consistency. Advanced machinery, such as computer-controlled equipment, ensures that each fabricated part matches the intended design precisely. This level of precision minimizes errors, promotes reliable functionality, and reduces the risk of complications during medical procedures.
Customization and Flexibility
Medical equipment and devices often require unique designs for specific patient needs or applications. Precision metal fabrication offers a high degree of flexibility & customization, allowing for the creation of tailor-made components. By leveraging advanced fabrication techniques and CAD/CAM software, fabricators can design and produce intricate, patient-specific parts that integrate seamlessly with medical devices. This customization enhances the overall effectiveness of medical equipment and improves patient outcomes.
Efficient Production Processes
Precision metal fabrication employs advanced technologies and streamlined processes to optimize production efficiency. For example, Computer Numerical Control (CNC) machines can perform complex machining operations with speed and accuracy. These automated processes minimize human error, reduce production time, and ensure consistent quality across large production runs. Efficient production processes lower costs and contribute to meeting tight project timelines and promptly delivering medical devices.
Cost-Effective Solutions
While precision metal fabrication requires specialized equipment and expertise, it offers long-term cost savings. By producing high-quality components that are durable and reliable, precision fabrication reduces the need for frequent repairs or replacements. Moreover, customizing designs allow for optimal material usage, minimizing waste and reducing material costs. By partnering with a reputable precision metal fabricator, medical device manufacturers can benefit from cost-effective solutions without compromising quality.
Collaborative Approach
Successful precision metal fabrication for medical equipment and devices relies on a collaborative approach between fabricators and manufacturers. Clear communication and close collaboration at every stage of the fabrication process are crucial. A strong partnership ensures that the fabricated components meet the desired specifications, from initial design concepts to material selection, prototyping, and final production. Collaboration allows for the exchange of technical expertise, innovation, and problem-solving, resulting in the development of superior medical devices.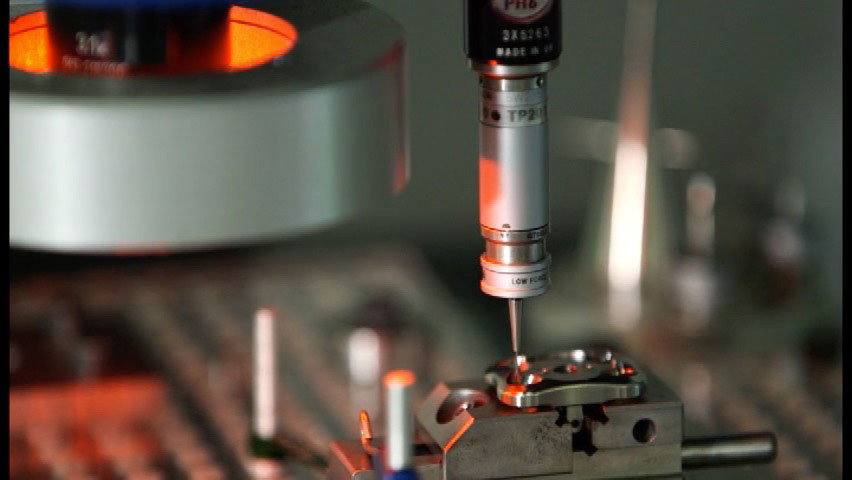 Here are a few examples of precision metal fabrication applications in the medical industry:
Surgical Instruments: Precision metal fabrication is crucial for producing surgical instruments such as scalpels, forceps, and retractors. These tools require intricate designs and precise fabrication to ensure optimal performance during surgeries.
Implants: Precision metal fabrication is used to create customized implants like hip and knee replacements. Using CAD software, fabricators can fabricate implants that match the patient's anatomy, providing a comfortable fit and promoting faster healing.
Diagnostic Equipment: Precision metal fabrication contributes to manufacturing diagnostic equipment like MRI machines, CT scanners, and X-ray devices. Fabricators create precise components such as gantries and mounting brackets, ensuring accurate alignment and reliable performance.
Prosthetics: Precision metal fabrication techniques are employed to produce prosthetic limbs. Fabricators utilize CAD/CAM technologies to create lightweight yet sturdy metal components tailored to the individual's needs, improving mobility and quality of life.
Lab Equipment: Precision metal fabrication is essential for manufacturing laboratory equipment used in medical research and diagnostics. Fabricators produce intricate components for instruments like centrifuges, microscopes, and spectrophotometers, ensuring accurate measurements and reliable experimental results.
These examples highlight how precision metal fabrication is utilized in the medical industry to improve patient care and advance healthcare technology.
Conclusion
Precision metal fabrication is vital in the medical industry, enabling the production of high-quality components for medical equipment. Fabricators ensure accuracy, customization, and compliance with regulatory standards, advancing healthcare technology. Precision fabrication ensures reliable, functional, and long-lasting medical devices with advanced machinery, materials, and efficient processes.
When seeking precision metal fabrication services for medical equipment, partner with an experienced fabricator familiar with healthcare requirements. Leveraging their expertise, manufacturers can enhance products, deliver innovation, and improve patient care.
For superior precision metal fabrication services tailored to the specific needs of the medical field, visit sjcprecision.com. Our expert staff is committed to offering superior quality and precision, allowing you to stay ahead in the challenging medical technology field.