Custom metal fabrication is vital in various industries, delivering precision-engineered components tailored to specific requirements. The demand for accuracy and customization in manufacturing processes has led to the emergence of advanced technologies such as CNC machining. In this blog, we will explore the pivotal role of CNC machining in custom metal fabrication and how it revolutionizes the industry by enabling high-quality, bespoke metal components. With CNC machining's ability to achieve intricate designs and impeccable precision, it has become an indispensable tool for manufacturers across different sectors.
Understanding Custom Metal Fabrication
Custom metal fabrication involves creating unique components and structures according to specific designs and requirements. Unlike mass production methods, custom metal fabrication allows for tailored solutions that meet the precise needs of various industries. This approach involves using specialized techniques, equipment, and skilled craftsmanship to shape, cut, bend, weld, and assemble metal materials into finished products.

It offers numerous advantages, including creating complex and intricate designs, adaptability to various metal types, and flexibility to accommodate unique specifications. Custom metal fabrication finds applications in aerospace, automotive, construction, and manufacturing, where precision, durability, and customization are paramount. By leveraging advanced technologies like CNC machining, custom metal fabrication enables the production of high-quality, precisely engineered components that meet the specific demands of each project.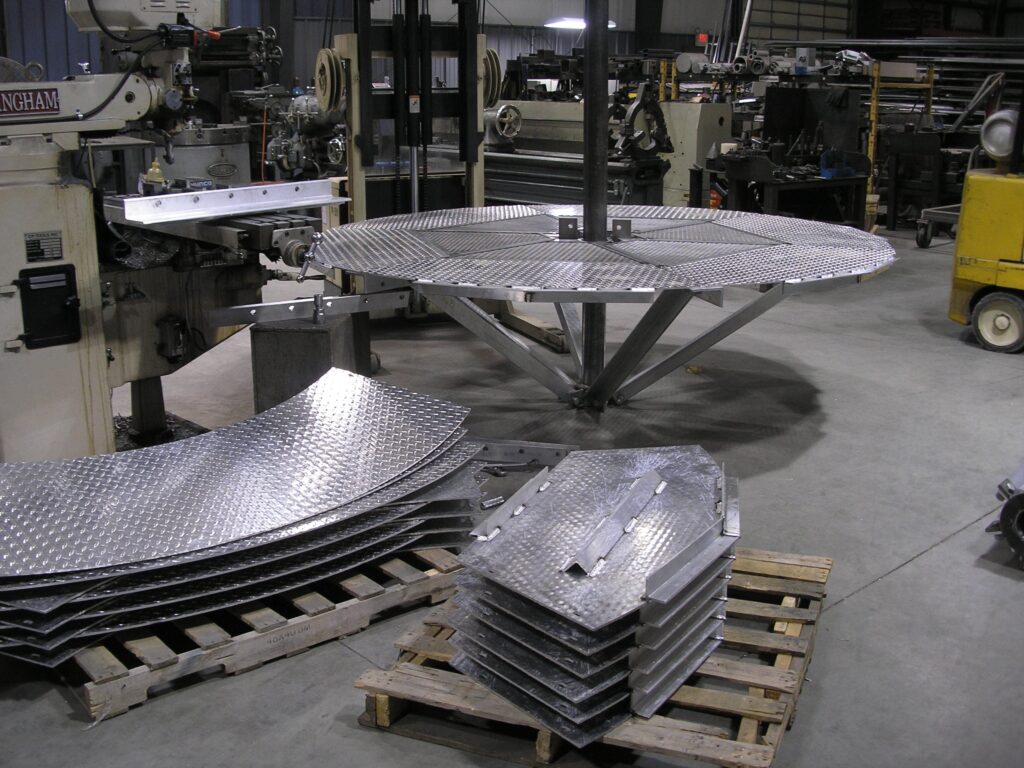 An Overview of CNC Machining
CNC (Computer Numerical Control) machining is a highly automated manufacturing process that utilizes computer-controlled machines to produce precise and intricate metal components. It involves using pre-programmed instructions to guide the machinery, allowing for accurate and repeatable production. CNC machines can perform a wide range of operations, including cutting, drilling, milling, and turning, with exceptional precision and efficiency.

The process begins with a digital design, which is converted into a code that the CNC machine follows to carry out the necessary operations on the metal material. This technology offers numerous benefits, including improved accuracy, reduced human error, increased productivity, and the ability to work with various metals. CNC machining has become a cornerstone of custom metal fabrication, enabling the creation of complex and tailored components for industries such as aerospace, automotive, electronics, and more.
The Role of CNC Machining in Custom Metal Fabrication
CNC machining is pivotal in custom metal fabrication, revolutionizing the industry by enabling high-quality, precise, customized metal components. With its computer-controlled automation, CNC machining ensures exceptional accuracy and repeatability in the fabrication process. It allows for the making of intricate designs, precise cuts, and complex shapes, often unattainable through traditional machining methods.

CNC machines can work with various metals, including steel, aluminum, and titanium, offering versatility in custom metal fabrication projects. By eliminating human error and enabling efficient production, CNC machining enhances productivity, reduces waste, and ensures consistent quality. Its role in custom metal fabrication extends to aerospace, automotive, manufacturing, and more industries, where the demand for precision and customization is paramount.
Advancements in CNC Machining Technology
Advancements in CNC machining technology have brought about significant improvements in the custom metal fabrication industry. Integrating AI (Artificial Intelligence) and machine learning has enhanced CNC machining capabilities, allowing adaptive machining strategies and real-time optimization. These technologies enable automatic tool path generation, improved tool life management, and faster production times. Additionally, sensor technology and data analytics advancements have enabled intelligent monitoring and predictive maintenance, reducing machine downtime and improving overall efficiency.

Integrating additive manufacturing techniques with CNC machining has opened up new possibilities for complex geometries and multi-material components. Furthermore, advancements in precision measurement systems have enhanced the accuracy and quality control of CNC machining processes. These technological advancements in CNC machining drive innovation, improve productivity and expand custom metal fabrication capabilities.
Case Studies and Real-World Applications
Several industries have harnessed the power of CNC machining in custom metal fabrication, leading to remarkable advancements and real-world applications. In aerospace, CNC machining is instrumental in manufacturing intricate components like turbine blades, aircraft structures, and engine parts, ensuring precision and reliability. The automotive industry utilizes CNC machining for producing engine components, chassis parts, and complex molds with high accuracy and efficiency.

In the medical field, CNC machining is crucial in crafting surgical instruments, prosthetics, and orthopedic implants tailored to individual patient requirements. Furthermore, the manufacturing sector employs CNC machining for creating custom tooling, prototypes, and specialized equipment, streamlining production processes. These case studies highlight the versatility and impact of CNC machining in various industries, facilitating the production of intricate, customized metal components that meet stringent quality standards and specific application needs.
Challenges and Considerations
While CNC machining offers numerous advantages in custom metal fabrication, challenges, and considerations exist. One significant challenge is the initial investment cost associated with acquiring CNC machines and the necessary software. Training and skilled operators are also required to program and operate the machines effectively. Maintenance and repair of CNC machines can also be complex and expensive. Another consideration is the limitation on the size of components that can be produced, as CNC machines have size restrictions.

Material selection is another consideration, as certain metals may pose challenges due to their hardness or heat conductivity. Finally, staying updated with rapidly evolving CNC technologies is crucial to ensure competitiveness. Overcoming these challenges and considering these factors is essential for successfully implementing CNC machining in custom metal fabrication.
Conclusion
In conclusion, CNC machining transforms into custom metal fabrication, enabling precise, customized, high-quality components. With its computer-controlled automation, CNC machining ensures accuracy, repeatability, and efficiency in manufacturing processes. The advancements in technology, such as AI integration and additive manufacturing, have further expanded CNC machining capabilities. Despite challenges like initial investment costs and training requirements, the benefits outweigh the obstacles.

Industries across aerospace, automotive, medical, and manufacturing sectors have embraced CNC machining, achieving superior results and gaining a competitive edge. As CNC technology continues to evolve, its role in custom metal fabrication will remain indispensable, driving innovation and meeting the demands of diverse industries.
SJC Precision's Approach to Assisting Businesses through Custom Metal Fabrication
SJC Precision leverages custom metal fabrication to assist businesses by providing tailored solutions for their metal component needs. With our
expertise in CNC machining and advanced fabrication techniques, we offer precise and high-quality metal parts that meet specific requirements.
SJC Precision's custom metal fabrication capabilities allow businesses to obtain complex and unique components for various industries, including aerospace, automotive, and manufacturing. SJC Precision helps businesses achieve their goals and enhance their products' performance and quality by delivering exceptional craftsmanship, attention to detail, and efficient production processes.